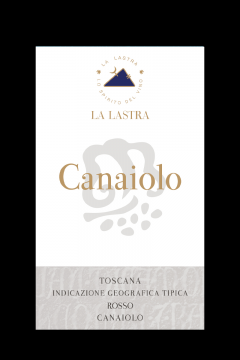 Canaiolo 2022
IGT Toscana Rosso Canaiolo - 2022 - Organic

Bott. 0,75 Lt

Organoleptic Notes and Pairings
Colour: deep ruby red with purplish nuances
Bouquet: fruity (cherry, black cherry, wild berries) and floral (evident aroma of violet) with evident spicy notes on which stands out the "black pepper", characteristic varietal spice
Taste: very soft, harmonious, fresh and persistent, with great drinkability.
To be served at: 18°C
Perfect foil with: pasta with red sauces based on vegetables and meats, pesto, stewed fish, young cheeses, raw and cooked ham, tempura fried vegetables, red meats cooked in salt, roasted white meats and young cheeses.
The Canaiolo nero (Canaiolo black) is an ancient grape variety native to Tuscany, used in the past to mellow the Chianti.Twenty years ago, in our winery in Siena, out of academic curiosity, we vinified it in purity: provided with a tricky character, he behaves like a capricious child, he wants extreme attention, it requires a considerable amount of time, but in the end the result pays the effort. It is a wine with marked varietal characteristics: from the evident black peppery smell and taste to the sweet aroma of violet and not least the smoothness of its tannins. Our Canaiolo wine, born from a young vineyard, in which we planted self-produced rooted cuttings of Canaiolo nero made with buds from the old plant, in order to remove from genetic erosion such a rare and precious vine, defined as the Pinot Noir of Tuscany for its softness and ease of drinking.

TECHNICAL DATA SHEET

Denomination: IGT Toscana Rosso Canaiolo
Area of production: Siena
Varietal composition: 100% Canaiolo nero
Harvesting: 2022
Environment sustainability: organic wine
Alcoholic content: 13,0%
Number of bottles: 2700

Average altitude of the vineyards: 280 mt a.s.l.
Type of soil: tophus soil with clayey intrusion, rich in fine skeleton
Yield per hectare: 7000 Kg
Thickness of implantation: 2400 vinestocks/Ha
Growing system: spur-pruning system
Time of Harvesting: first decade of October
Harvesting: selection of bunches only picked by hand and handling of grapes in boxes of 300 kg

Vinification: traditional red winemaking with co-inoculation
Type of fermentation tanks: stainless steel of small capacity
Fermentation Temperature: 26°C
Fermentation period: 14 days
Ripening: in steel
Time of bottling: from October after Harvesting
Refinement in bottle: at least 2 months
Capacity of aging: medium (3 to 6 years after harvesting)
Data sheet
Vintage

2022

Typology

Red Wine

Varietal composition

Canaiolo

Capacity of aging

6 years

Aging in wood

No
No customer reviews for the moment.